For Borzoi amateurs, owners and breeders
» THE BORZOI
Breeding news
Breeding news
In this category, the plans, expected and/or born puppies of the
breeders
who are a member of our association (according to the valid conditions) are published in order to inform interested persons about their new life.
Puppies born on 25/2/2023
of Russian Dreams ✉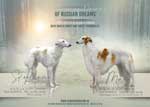 Van Hoof - Bekers Eddy & Bianca
Elsbroek, 5 - 2200 Noorderwijk
✆ 0032(0)14 26 79 28
4 males and 5 females
Sire : MCh. Borscana De Soto
Dam : MCh. Skyluna of Russian Dreams
It is no exception that this section is empty, as Barzois are not an everyday breed and therefore breeders usually have a waiting list of interested people for their next litter.
You can always contact us with your questions, we are more than willing to share our experiences gained in over 40 years of breed knowledge with you and guide you in the right direction in your search.
To meet Barzois in real life together with their owners/breeders, you are always welcome at one of our next activities.
Be sure to subscribe to our
newsletter
to be kept informed.
When our Breeding news section is empty, we like to refer you to our colleague Borzoi-clubs :