For Borzoi amateurs, owners and breeders
» THE BORZOI
Breed standard
FCI-Standard N° 193 / 05. 11. 2019 / EN
BORZOI - RUSSIAN HUNTING SIGHTHOUND (Russkaya Psovaya Borzaya)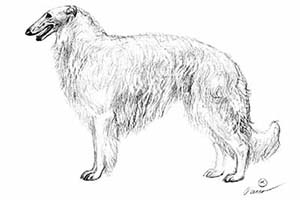 TRANSLATION : Anna Samsonova. Edited by Dr. Eugene Yerusalimsky.
ORIGIN : Russia.
DATE OF PUBLICATION OF THE ORIGINAL VALID STANDARD : 04.09.2019
UTILIZATION : Hunting sighthound, racing and coursing hound.
Borzoi is a hunting sighthound to be used mostly for chasing hare and fox, less for wolf hunting.
Combines high agility with endurance and the ability to tackle a game deftly at once. Successfully used for coursing and racing.
CLASSIFICATION F.C.I. :
Group 10 Sighthounds.
Section 1 Long-haired or fringed Sighthounds.
With working trial.
Link to the F.C.I. website
FCI-Standard 05.11.2019 / EN